Just this summer I began creating my own frames, borders, and background papers. I was having such a great time doing this that I had accumulated several kits and posted them on my TpT store. One of the most common questions that I was receiving was "How do I use these frames?" So, I put together a visual tutorial for everyone. I have a step by step explanation of how to insert frames into Microsoft Word. I completed the PC version, and I received special permission to use Tracee Orman's MAC version. So, both platforms are recognized. While you are at my TpT store, look for several free frame sets to practice with!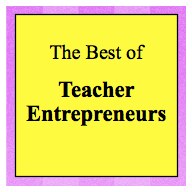 For Your Free Lesson at The Best of Teacher Entrepreneurs!
To all teacher-entrepreneurs on the Internet: If you would like to receive free advertising for your free lesson on "The Best of Teacher Entrepreneurs," email me your article at

vleon999@yahoo.com

. It may become the "Free Lesson of the Day" at "The Best of Teacher Entrepreneurs and also advertised on Pinterest and Twitter.